Upcoming Exhibitions
The Season of Spring
Curated by The World's Most Adorable Art Critic - Daniel Rolnik
Flower Pepper Gallery
121 East Union Street, Pasadena, CA 91103
www.flower-pepper.com
March 1 - April 4, 2014
Opening: Saturday, March 1, 6:30-9:30pm

Visions and Revelations
NAWA (National Association of Women Artists) Exhibition
Juror Sarah Hall, Director of Curatorial Affairs, Frick Art & Historical Center
Point Park University
201 Wood Street, Pittsburgh, PA
www.thenawa.org
March 28 - May 18, 2014
Opening reception will be held on March 28, 5:00-8:00pm

Solo Exhibition
Bruce Lurie Gallery
2736 South La Cienega Boulevard, Los Angeles, CA 90034
www.luriegallery.com
November 2014




Past Exhibitions


Patterns of Nature: The Spiral and Interconnectedness
For over a year I worked on a series of images related to the Spiral. These drawings, paintings, found nature objects and other installation components were assembled for exhibition and entitled Patterns of Nature: The Spiral and Interconnectedness.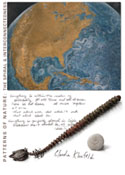 The opening of Claudia's Los Angeles Spiral exhibit at the LA Artcore Brewery Annex will take place Sunday, December 2, 1:00-3:00pm. A conversation with the artists is scheduled for 2:00pm.
Click here for Press Related to this Exhibit

LA Artcore Brewery Annex
650A South Avenue 21
Los Angeles, CA. 90031
Telephone 323.276.9320
Visit the LA Artcore gallery online

Click here to see NEW WORKS, the Exhibition Invitation
and the Chicago show Exhibit Catalog. →


Patterns of Nature and Man's Machinery
- a body of work that investigates the synthesis of art and science from my visual investigations into the Spiral. This show collaborates with numerous other artists and a physicist from Los Alamos National Laboratory. It is a multimedia interactive installation that has emerged from my work within
Patterns of Nature: The Spiral and Interconnectedness
. I am currently in discussions with various venues to place this traveling exhibit.
I am pleased to announce that I was invited to present a talk on my art and the spiral at ISEA2012, the 18th annual
International Symposium for Electronic Arts
, held in Albuquerque September 2012.
Claudia Kleefeld Artist Talk at ISEA2012
Monday, September 24th, 10:15 - 10:35 am
Hotel Andaluz, Majorca Room
125 Second Street NW, Albuquerque, NM 87102
You must register as a participant in ISEA2012 to attend Claudia's talk.
Register online at:
ISEA2012.org
.
Woman Made Gallery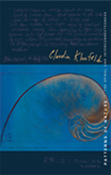 Chicago, IL, March 2 - April 26, 2012
Opening Reception, March 2, 2012, 6:00 - 9:00 pm
Artist's Talk, March 4, 2012, 1:00 - 3:00 pm

Click here for Press and Show Reviews
Related to this Exhibit

Kleefeld Artist Talk and Installation
at Woman Made Gallery YouTube Video

Visit Woman Made Gallery online for this exhibit
View the Exhibition Catalog
Click here to order your copy of the Catalog